DRNC is excited to introduce our two newest law fellows, Jeremiah Clarke and Sarah Hoffman.
Sarah Hoffman, DRNC's 2021-23 Equal Justice Works Fellow
(sponsored by American Tire Distributors)
Sarah Hoffman joined DRNC's criminal legal team in September 2021. Sarah is one of 77 Equal Justice Works (EJW) fellows chosen nationally to address a wide range of unmet legal needs. Each year, EJW selects a class of aspiring public interest lawyers who have designed two-year projects in partnership with legal services organizations to build solutions in the communities they serve. The projects are funded by the generous support of law firms, corporations, foundations, and individuals.
For her project, Sarah will gather and analyze data on the mental health treatment and solitary confinement units in seven North Carolina prisons. Working with DRNC's criminal legal team, she will form recommendations for legal advocacy aimed at improving prison conditions for people with mental health disabilities. Her project will culminate in a report that will give DRNC a path forward in advocating for reform on these issues.
Criminalization of disability is a pervasive problem. The occurrence of serious mental health disability in North Carolina prisons is about four times higher than in the general population. Current prison mental health services are grossly insufficient to meet the mental health needs of incarcerated people and treatment is often unavailable to those who need it. The prison environment can exacerbate mental health disability and make it difficult or impossible to conform behavior in accordance with strict prison rules. As a result, people who need help frequently receive punishment instead, including long stays in solitary confinement, where their mental health further deteriorates. Sarah's important work during her fellowship aims to interrupt this vicious cycle and correct the inhumane prison conditions that are harming and destroying the lives of vulnerable people.
Sarah graduated with a law degree from UNC School of Law and a master's degree in public policy from Duke University's Sanford School of Public Policy in May 2021. Her experience includes working with the National Disability Rights Network, the NC Department of Behavioral Health, and the Mental Health Division of the D.C. Public Defender Service. Sarah was diagnosed with Bipolar I Disorder as a teenager. Through that experience, she learned that not everyone is as fortunate to have the high quality of care that made her own recovery possible. After studying the systematic criminalization of mental health disabilities, she became determined to advocate for equitable mental health treatment options for those in prison.
Jeremiah Clarke, DRNC's 2022-24 Disability Law Fellow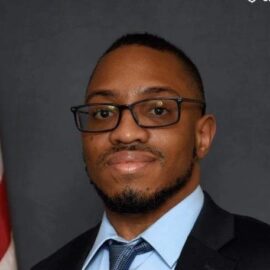 Jeremiah Clarke joined DRNC as our Disability Law Fellow in February 2022. DRNC's Disability Law Fellowship (DLF) provides new graduates with a passion for disability law the opportunity to develop their skills while providing critical services to our clients. As with all our Disability Law Fellows, Jeremiah will spend his first year rotating among DRNC's legal teams, expanding his experience and skills. During his second year, he will focus his work on a specific area of legal practice. He has expressed particular interest in the work of DRNC's education and community inclusion teams.
Jeremiah, who is from the Bahamas, received his bachelor's degree in pre-law from Palm Beach Atlantic University in West Palm Beach, Florida and graduated from Liberty University School of Law in December 2021. In law school, Jeremiah held internships in the areas of criminal and juvenile defense, including an internship with the Council for Children's Rights in Charlotte, NC.
Jeremiah is passionate about using his legal knowledge to improve the lives of people with disabilities. Born with cerebral palsy in a country where the laws are not as favorable for disabled people, Jeremiah brings diverse lived experience and strong legal skills to his work at DRNC.
Jeremiah comes highly recommended. His disability law professor wrote that "Jeremiah has a long history of constant and consistent development as a thinker, researcher, writer, and public speaker. He has so much potential to do so much good. I cannot think of a better way for him to develop his legal talent and advocacy skills than by working with DRNC."