Staff post
Cas Shearin
Media Strategist/Senior Writer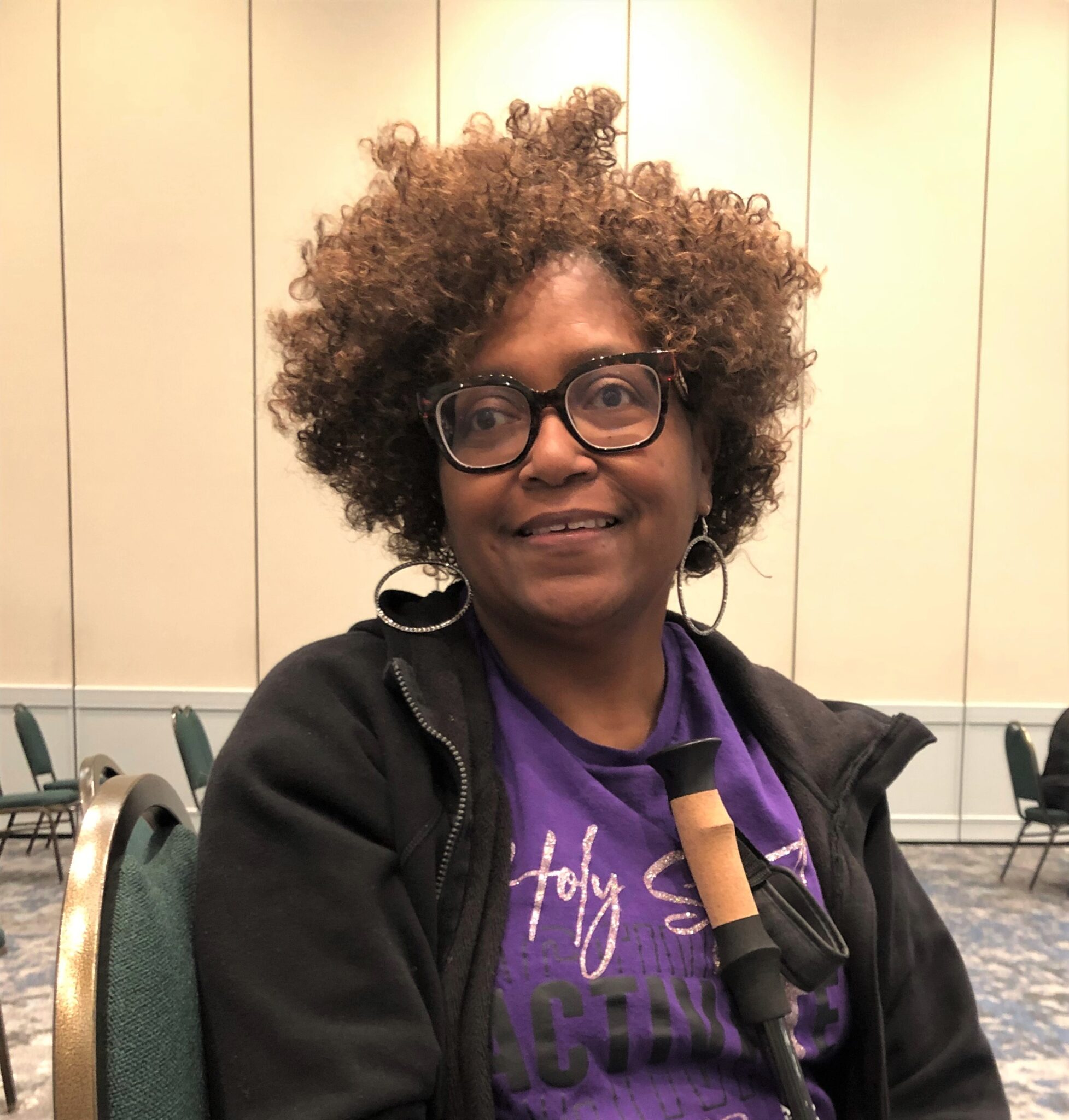 Barbara Lee was all sparkles at the New Bern Riverfront Convention Center. Wearing glittery hoop earrings and a bright purple tee-shirt with the words "Holy Spirit" emblazoned in sparkling silver, the Craven County woman showed up in style at the packed community event in late March. 
Hosted by Peletah Ministries of New Bern and Healthier Together, this important event brought state and federal officials and over 40 organizations together to support residents still recovering from Hurricane Florence and the pandemic. DRNC's outreach team attended as part of Project ACCESS (All Communities County Equitably for Safety and Support) to provide information and consultation to the more than 300 people who registered. Project ACCESS is DRNC's statewide initiative to increase access to vaccines, and accurate information about them, for people with disabilities. 
That's how DRNC met Ms. Lee. While she was at the event, she got her COVID-19 vaccine booster and graciously shared her story with us. Ms. Lee's journey to that booster was a long one, and one that touchingly demonstrated how much she means to her family. 
When the pandemic began, Ms. Lee worried if she got COVID-19, she might not have a successful outcome. Under the care of a rheumatologist, a hematologist and a primary care provider, she used every precaution to stay safe. When the vaccines finally became available, her doctors urged against her getting the vaccine because of her medical status.  
Her family had her back, though. "As soon as they could, they went out and got [vaccinations] because of my health conditions and because I wasn't allowed to get the vaccine. They were trying to protect me," she said of her husband, sister, four children, and 17-year-old grandson who calls her "GeeGee." 
Last October, her doctors cleared Ms. Lee to get vaccinated and she immediately got the first, then the second. 
Then in January, she got COVID. Even with the 2 shots and treatment with monoclonal antibodies, Ms. Lee was very sick with "severe flu-like symptoms" that kept her in bed for more than a week. "I thanked God because it could have been really bad if I hadn't been vaccinated, especially with my underlying condition." 
Ms. Lee is like many people with underlying conditions that make them especially vulnerable, although an outside observer would not guess she may be vulnerable. 
That's one of Project ACCESS' important messages: we can't know whether an individual we are around is particularly vulnerable, so we strongly recommend vaccinations to everyone who is able to safely get the shots. 
For Ms. Lee, the message is simple. "If you don't do it for yourself, do it for your loved ones like my children did for me."