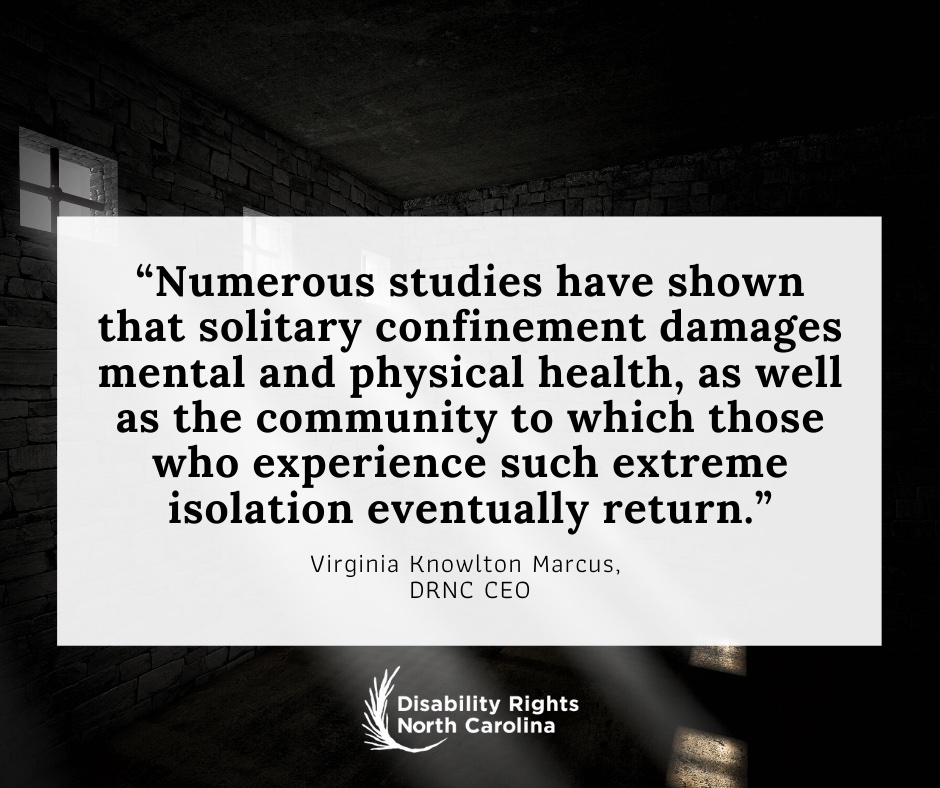 More inmates with mental health disabilities are being subjected to solitary confinement in North Carolina prisons in response to correctional officer deaths, according to a December 18 report in North Carolina Health News. Solitary confinement is a dangerous practice where an inmate is isolated in a cell the size of a parking space for 23 hours/day. For the last two years, the NC Department of Public Safety (DPS) has drastically increased the number of people, including individuals with serious mental health other disabilities, kept in solitary confinement.
Disability Rights North Carolina (DRNC) maintains that this inhumane practice is contraindicated in particular for people with mental health disabilities and does not make prisons safer. "DPS's solitary confinement practices are out of step with emerging national standards and practices," said Chief Executive Officer Virginia Knowlton Marcus. "Numerous studies have shown that solitary confinement damages mental and physical health, as well as the community to which those who experience such extreme isolation eventually return."
Susan Pollitt, DRNC supervising attorney, pointed out that, "from 2015-17, DPS proved it could reduce the use of solitary confinement while improving prison safety and the safety of NC communities." The sharp increase in DPS's use of solitary confinement marks a disturbing reversal. "DRNC and a broad coalition of advocates continue to push DPS to reduce the number of persons housed in these inhumane and dangerous conditions," said Pollitt.
DPS's overuse and misuse of solitary confinement means that many people will be returning to their communities in far worse condition than when they left. "We urge DPS to heed the growing calls for reform and curb the number of persons placed in these inhumane and dangerous conditions," said DRNC attorney Luke Woollard. "Change is possible, if we work to achieve it."