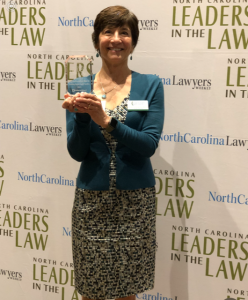 Disability Rights North Carolina's (DRNC's) CEO, Virginia Knowlton Marcus, was surprised to learn that North Carolina Lawyer's Weekly named her as one of 2023's Leaders in the Law, and true to her generous spirit, used the news to celebrate her staff, saying, "This reflects the great work ALL of us are doing at DRNC." 
At the awards luncheon on April 20, Knowlton Marcus was happy the awards emcees selected something she wrote to share with the approximately 200 people gathered, her response to a question about the biggest challenge she sees in her work:  
"Disability rights work is difficult, under-prioritized and under-resourced. People with disabilities are among the most maligned, misunderstood, marginalized, scapegoated, stereotyped, segregated, and discriminated against people in our society. We face ignorance every day, not because others are ill-intentioned, but because disabled people have routinely been stuck in separate places to live, work, and play, away from everyone else. Our culture and attitudes must evolve." 
As attendees applauded at the end of the program, Knowlton Marcus beamed and directed applause to each of her colleagues around the DRNC table. 
"Leaders in the Law" is an annual award that celebrates members of North Carolina's legal profession who are setting the standard for other lawyers. These honorees represent the most influential individuals within our state's legal community. The leaders named in this year's class come from across the state and represent many different areas of practice. What they all have in common is that they have gone above and beyond in their profession and in their community. DRNC celebrates Knowlton Marcus's recognition as a leader and champion for North Carolina's disability community. 
Knowlton Marcus joined the DRNC team as the CEO in September 2018. She is an attorney with lived experience who has been advocating for disability rights in multiple states, federally and internationally for the past 25 years. Her prior positions include executive director at Disability Rights Maryland, director of legal advocacy and director of public policy at Disability Rights California, executive director at the Joseph P. Kennedy, Jr. Foundation, and fellow with the California Assembly Ways & Means Committee. 
Knowlton Marcus is a National Disability Rights Network board of directors and legislative committee member, chairs the NC Equal Justice Alliance, and is a member of the NC Equal Access to Justice Commission, NC Mental Health Block Grant Planning and Advisory Council, NC Council on Developmental Disabilities, and NC Traumatic Brain Injury Advisory Council. She is a Leadership North Carolina alumnus and current Leadership Triangle participant. 
A full list of the Class of 2023 Leaders in the Law may be viewed on North Carolina Lawyers Weekly's website.