DRNC is thrilled to welcome several new staff members to our team! These passionate individuals work hard to achieve a just society where people with disabilities are free from discrimination and abuse. Together, we continue our work towards a fully integrated and accessible community – where people with disabilities have power, equal opportunity, and freedom to make their own decisions.
---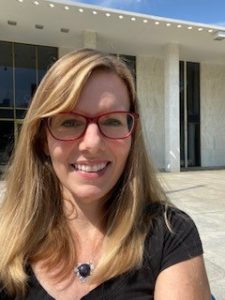 Jen Andrew
Jen Andrew joined Disability Rights North Carolina in June 2022 as the communications coordinator. She has over 15 years of experience advocating for LGBTQ+ rights, education justice, and racial equity. Her background includes work in philanthropy, community organizing, public libraries, and healthcare. Her passion for disability rights comes from both her lived experience with a disability, and social justice work, where advocacy efforts can exclude disabled individuals. Jen believes as Audre Lorde said "There is no such thing as a single-issue struggle because we do not live single-issue lives." This sentiment informs her work and world view. Jen holds a bachelor's degree in psychology with a minor in biology from West Virginia University. She is an avid reader, an Emergent Strategy enthusiast, and a peer supporter for Autistic individuals, especially those diagnosed later in life. Jen enjoys traveling across North Carolina and beyond and she and her family have lived in Cary since 1998.
---
Terell Comer
Terell Comer joined Disability Rights North Carolina in April 2022 as an investigator/advocate on the Rep Payee Team. Terell's previous roles include adult protective services social worker, coordinator of community services for individuals with intellectual disabilities, and family investment specialist. He has over 10 years in retail experience during which time he spent 6 years in management. Terell was drawn to this work because he has a drive to ensure that those who are unable to advocate for themselves receive fair treatment and access to essential resources. He believes that everyone deserves to live in an integrated community and have equal access to activities that make them happy. He holds a master's of science human services administration from the University of Baltimore/Coppin State University Collaborative and a bachelor's degree in interdisciplinary studies with concentrations in management science & criminal justice from Coppin State University. When Terell isn't working, he enjoys listening to gospel & R&B, traveling, and spending time with family and friends.
---

Connie Dixon
Connie Dixon joined Disability Rights North Carolina in April 2022 as an Investigator/Advocate on the Rep Payee Team. Her work focuses on investigations involving Social Security beneficiaries and their representative payees. Connie has over 45 years of experience in social services at the local and state levels. She retired from NC Department of Health and Human Service, Division of Social Services (DSS) prior to coming to DRNC. At DSS, she was the program coordinator for the state's Supplemental Nutrition Assistance Program (SNAP) Nutrition Education and Outreach programs. She educated low-income individuals on how to eat healthy and manage chronic diseases on a low-income budget as well as providing information about the SNAP program including how to apply for SNAP benefits. Connie is drawn to this work because she believes in the mission of DRNC and both her paternal grandfather and uncle were disabled. Outside of work, she enjoys attending church, spending time with family, yoga, walking, attending jazz concerts, sporting events, and traveling.
---
Desireé Gorbea-Finalet
Desireé Gorbea-Finalet, MA joined Disability Rights North Carolina in September 2021 as the Traumatic Brain Injury Justice Initiative project manager. Her work focuses on developing and implementing an innovative Traumatic Brain Injury screening and supportive services initiative program in North Carolina's criminal justice recovery court system. Her background includes providing direct service to marginalized communities including immigrant-refugees, Latinx, Indigenous, Domestic Violence Survivors and Title-1 school students. She also has experience in paralegal work, and Human Resources. Her passion for disability rights and public service stems from her lived experience with multiple disabilities. Being a multiple Traumatic Brain Injury survivor, Desireé has seen and experienced firsthand how individuals with a brain injury are often isolated, and de-humanized through the symptom mis-understanding and mis-labeling of being 'non-compliant, disorderly, mentally or emotionally unstable.' Desireé holds a Master of Arts in Peace and Conflict Studies with a focus in International Peace Development from the University of North Carolina at Greensboro and a Bachelor of Arts in Psychology and Minor in Criminal Justice from the Universidad Interamericana de Puerto Rico, Recinto Metro. She is originally from Puerto Rico and came to North Carolina in 2017. Desireé absolutely love cats, and is always open to hearing from other feline fans!
---
Casey Mason
Casey Mason joined Disability Rights North Carolina in June 2022. He serves as the Development Coordinator. Casey's work focuses on Fundraising and Events. He brings more than 11 years of clinical, administrative, and government experience to his role at DRNC. Through multiple organizations he's fundraised over $2 million to-date and managed over two dozen keynote events. His background includes experience with grant writing, strategic development, legislative engagement, and multi-media marketing. He holds a Masters of Social Work from Ohio State University and a Bachelors of Arts from Capital University. In 2020, Casey moved to Raleigh to be closer to family. Prior to his move, he spent over 4 years living in Colorado and Utah. Casey was drawn to DRNC's work as he has an adopted sister with a dual diagnosis of Autism and Cerebral Palsy, in addition to lived experienced representing roughly 1 in 5 people living with a "hidden disability."
---
Craig Waleed
Craig Waleed, EdD joined Disability Rights North Carolina in May 2022. He serves as Project Manager for Unlock the Box (UTB) Campaign Against Solitary Confinement. Craig is an educator, counselor, certified Restorative Practices group facilitator, author, and motivational speaker. He is dedicated to excellence in teaching, scholarship, and disrupting the community-to-prison pipeline. Craig's passion led him to work closely with students on several college campuses and participate in several community panels exploring carceral matters. He is devoted to educating and motivating others to challenge and overcome many of life's impediments in order to live a more rewarding experience. His career journey includes serving as a substance abuse counselor, developing and managing reentry initiatives for post-incarcerated citizens, and teaching mental health counseling and communication courses at The College at Brockport State University of New York, and Monroe Community College in Rochester, NY. Craig completed his doctoral studies in Executive Leadership from St. John Fisher College in Rochester, NY. His autobiography, Prison to Promise: A Chronicle of Healing and Transformation was published in August of 2020.